Welcome To John Frith Art
Welcome to this website, we hope you enjoy your visit!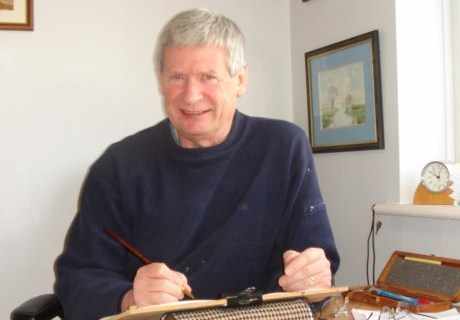 John hard at work in his studio
Here's just a little bit about me, and my art.
I work mainly in pen and wash, using pens with soluble and waterproof inks, watercolours and soluble pencils, because I find these mediums enable me to achieve realistic pictures and plenty of atmosphere, in a short time, and with the minimum of fuss!
I love painting 'natural' scenes, including landscapes of countryside, farm settings, buildings, rivers and I love sketching people! I also enjoy the challenges presented by animals and birds - basically anything 'close to nature'.
I am kept busy with specially commissioned work for clients - - subjects such as their houses, or their favourite places (yes, quite often their local 'watering hole!'), make great presents, and start at around £100. I can usually complete a commissioned work within a fortnight.
MY FAVOURITE TIME THOUGH IS WHEN I'M RUNNING A PEN & WASH WORKSHOP. It's great to help people build up their skills in this area, and give them the confidence to go out into the big wide world armed with sketch pad and pen!
Details of my new book Sketching Anytime Anywhere are on the next page.
Why not treat yourself to my book, or one of my workshops (or gift a workshop to someone else as a present - they'll have a great time!) - s
imply contact me through the 'Contact Us' page.
Thankyou for visiting this website
John Frith
P.S. The pictures on the website are a VERY small sample - I have hundreds, but I do try to change them around when I have an hour or two to spare. I hope you enjoy them as much as I did painting them!